You have your new Android device in your hands and we all know that a correct set-up involves taking a walk through the Google Play Store, where there is a wide variety of applications for Android that will make our phone the most useful terminal.
For our list of the 10 best mobile applications for Android we have discarded the well-known social networking apps such as Facebook, Instagram or Twitter. We already know very well that they work and that they do it very well.
Solid Explorer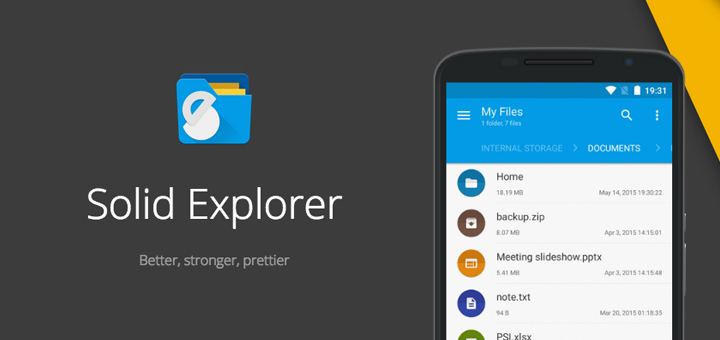 For many it is the best file explorer because it has a simple and attractive interface and useful functions such as connection to the cloud. The best? It's free. You can find
Polaris Office
It is one of the best, if not the best, office application that can be found for Android. It has no advertising and opens any document quickly.
Google Drive
It offers, of entrance, 15 GB free for the storage of files in the cloud. It is free and has an upload speed of up to 2 Megabytes.
Tinder
For many is the great revolution of love and relationships as it allows us to reject or accept new suitors through a simple system. Once someone is accepted and, if that someone is also interested in us, you can start a conversation to have an appointment.
Message
We're going to cheat because at this point we're going to put two applications for Android that are really useful and optimal in terms of instant messaging. Of course, we talk about WhatsApp and Telegram. The first has more than 600 million users, everyone around us uses it! And yet, there are those who believe that Telegram is considerably better since it offers the possibility of sending files of up to 1.5 GB and it is hard to think. Which one do you stay with?
Feedly
If you are one of those who like to be aware of what happens in the world Feedly is your app. It is an RSS reader through which you can read the news of your favorite media all together.
VSCO
It has become an app of the most popular thanks to the effectiveness of preset filters in photo editing.
VLC
There is no Android device in which VLC may be missing since with this application we can play any multimedia file.
Spotify
We all like to listen to music at one time or another of the day. Of course, if you do not get the Premium account you can only listen to music at random from your favorite artist or group, as well as having to listen to advertisements.
Wikipedia mobile
The authentic app solves- discussions on your Android device. When did the Russian Revolution begin? How many years did Napoleon die? Your mobile saves the answers.
What are the best mobile applications for Android for you?