Android devices are the main targets for viruses and malware. Unfortunately, there are dozens of ways to infect a smartphone or tablet, including text messages, third-party applications and sometimes even Google Play. With such a wide range of threats, choosing and downloading the best antivirus for Android is a must.
How to choose the best antivirus for Android
For the purposes of this guide, I will assume that you have more than just an Android device. All the options that I will present will offer a multi-device protection that is for both desktop and android mobile devices. In any case you can buy or download the antivirus app for Android individually if you prefer.
In this guide to the best antivirus for Android, I will present you the eight best options available on the market. Some apps are free, others are paid, but despite this difference they should all guarantee you excellent protection.
I remind you that Google, in the new versions of Android, has also included Play Protect:  an integrated antivirus that, in theory, should keep you safe. That said, it did not work very well in laboratory tests. AV-Comparatives, for example, found it only 51.8 percent effective. The choices I will show you in this guide, on the other hand, are 99.99% effective.
If you're not running any sort of anti-malware or anti-virus apps on your Android smartphone or tablet, you're exposing yourself to a very high risk. The chances of infecting your device due to a corrupted app or malware are, in fact, very high.
The best Android antivirus applications offer not only the detection and prevention of malware in real time, but also an anti-theft mode and a wide range of features to preserve your privacy.
These include the ability to back up your contacts and photos, track your phone or tablet via GPS, take a picture of a thief, or potential, thanks to the front camera of the device. You can still send specific commands to a lost or stolen phone via text messages and even use your Android Wear smartwatch to locate your phone.
Antivirus Functionality
The strength of Android devices is strong, constant and passive security. Unlike your PC, running regular virus scans with an elaborate user interface is not possible. In this article I've selected anti-virus apps that not only protect you from real-time threats, but also scan your device without consuming the limited system resources it has.
Another aspect to consider when choosing the best Android antivirus is usability. In fact, antivirus for desktop are equipped with a large amount of settings for a very specific reason, but for a mobile device you need to make a separate discussion and make the user experience as simple as possible, without getting lost in dozens of settings.
Since all the choices you will find here offer multi-device plans, it is also interesting to evaluate the user experience of the desktop version. Extremely useful parameter to monitor all your devices simultaneously, including the Android smartphone.
There are also specific features for Android to consider. The first is the filtering of calls and messages. The antivirus should be able to block calls and SMS from unrecognized numbers or, at least, to warn you if any messages could be harmful.
In the ranking of the best Android antivirus, the presence and quality of location services in case of loss of the phone is also evaluated. The most useful features include GPS phone detection, remote blocking and remote erasing (total reset).
Antivirus for Android smartphones and tablets: Quick Overview
Based on extensive testing and research, the best paid Android antivirus is Bitdefender Mobile Security ($9.99 per year), which offers almost flawless anti-malware protection and dozens of other features. The Norton Mobile Security freemium gives your mobile device an equally excellent protection, despite the price to unlock the premium features of $29.99 a year.
Avast Mobile Security and CM Security Master Offer a wide range of features even in free versions, and generally both get high marks on malware detection tests. But the anti-theft and call barring capabilities of Avast sometimes may not be very accurate, while the CM Security Master anti-malware detection rates vary quite from month to month.
Here we are, here is the list of the best antivirus for Android smartphones! Before seeing the specifications with the PRO and the VS of each app for your mobile security here is a quick overview of the
4 Best antivirus for Android on the market
1. Avast Mobile Security
It is defined as one of the best antivirus for Android ever. We talk about the famous Avast, which, already excellent solution for the protection of your PC, has used its considerable capacity to create an app that goes well beyond a trivial scanner. The extra features of the free version include call barring, a firewall and even an anti-theft feature that allows you to remotely lock or format your Android device when needed.
The first app was paid, but now it's free, supported by advertisements. To remove them, just pay a small monthly or annual sum. Another very useful premium feature is the "in-app block" whereby the device requires a PIN before opening certain apps. This prevents any malware from automatically launching apps like an internet banking.
2. BitDefender Antivirus Free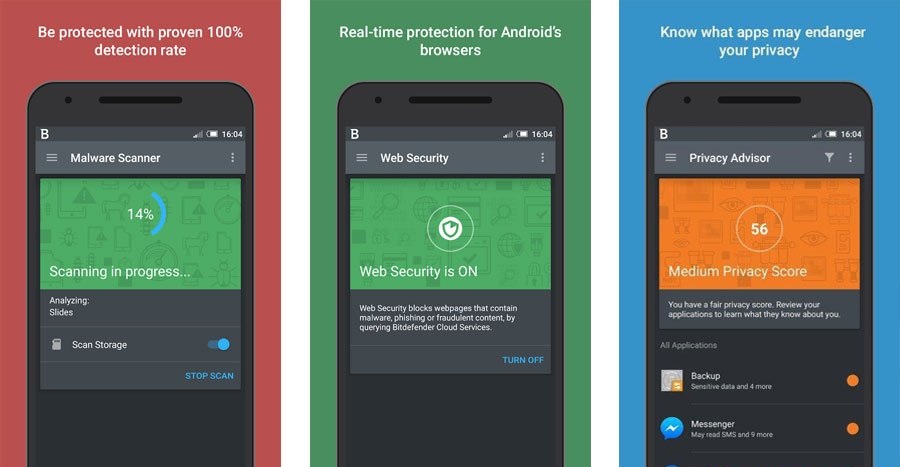 BitDefender is an important name in the world of digital security and its free antivirus program is extremely light. It does not run in the background, which frees up system resources and saves battery life.
This means that you have to schedule the scans or run them manually to be protected. That said, all new apps downloaded to your device are automatically scanned. Another advantage of this app is that it will be launched as soon as it is installed – no additional configuration is required.
If you need extra security, sign up for a free 14-day trial of BitDefender Mobile Security. This includes basic antivirus and real-time protection for Google's Chrome browser and anti-theft features.
There is also a privacy management tool and a security tool for your smartwatch with its WearOn technology that alerts you if you leave your phone behind. Really complete with everything.
Personally I have been using it for almost a month as a multi-device package. I installed the full version that ensures the installation of the antivirus on 5 different devices, including smartphones and tablets. It's called BitDefender Total Security 2019 and I strongly recommend it. Really exceptional, light, complete and with an intuitive interface. All for around $30.00 a year (on offer for a limited period of time).
3. Android antivirus – AVL
Antiy AVL is a former winner of the AV-Test (a prestigious independent platform that performs professional tests of numerous antivirus systems) for the best protection of mobile devices. Its features include not only an antivirus database (of course), but also a scanner capable of detecting any kind of executable file that makes its way onto your device.
Other useful features include call barring to prevent dangerous numbers from contacting you, as well as an anti-phishing feature to prevent the loading of malicious websites. The app is also designed to be lightweight and does not affect the resources of your Android smartphone, which is always useful when you have difficulty improving battery life.
4. Mobile Security Antivirus, Anti-Theft Safe Web
McAfee is another well-known name when it comes to PC antivirus software, and this Android app – McAfee Mobile Security – does not disappoint. In addition to the now classic anti-virus scanner itself, free features include monitoring a lost device and blocking and erasing from a distance. If your device is stolen, the app can even take a picture of the thief. Useful no? Surely one of the best Android antivirus on the market.
Other strengths are certainly the ability to scan apps to see if they release sensitive information and block them if necessary. McAfee will also block access to potentially malicious websites, as well as keep a list of annoying callers and text messages black.