The digital language is not limited to letters and numbers, using visual tools is increasingly widespread social networking and messaging services. They say a picture is worth a thousand words, and if you are moving, better than better, which is why GIFs are one of the preferred methods in communicating a mood or reinforce a message.
There is a new tool for lovers of animated images. We talk about Gfycat Loops, the popular app to create and share GIFs that spent time available in some countries in beta, it has already reached worldwide. We tell you how you can take full advantage of this tool and encourage your publications.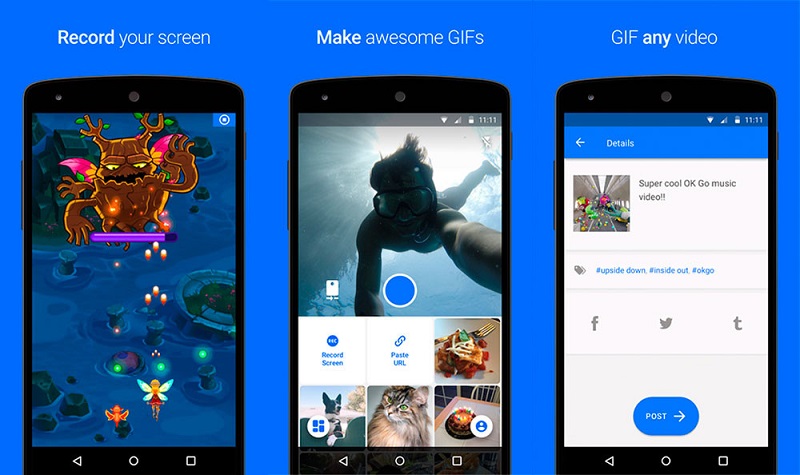 Create GIFs with Gyfcat
Gyfcat allows you to create GIFs easily in three ways: You can use the camera of the device and record the scene you want, you can ** capture screen ** Mobile or choose a fragment of an online video you've found on YouTube, Facebook or other service online video playback.
If you choose the third option, you will need to copy the video URL and paste it into the "Paste URL" section. In this case, you must also bear in mind that the app needs to import the video, so if it is long it might take a while.
Once you have, the video you want to convert into GIF you can edit it by selecting only a fragment, which by default will have 15 seconds maximum duration.
In addition to cutting, the piece that interests you, Gfycat also let you add text to the image, crop the frame to your liking or add filters to choose between black and white, sepia or reversed.
You may also like to read another article on FreshLookApp: WhatsApp against Google Duo, who has the best video calls?
… Or share
If you prefer to give it actually Gfycat has a library of huge GIFs with hundreds of categories. Within each section, there are plenty of GIFs so you choose the one that best represents what you want to express. Once you selected you can share directly in social networks and more popular, in addition to copy the URL to paste into a message or memo apps.
Gfycat is an app with many possibilities for lovers of GIFs, but note that its performance can still improve. Although running well, often slow to respond to commands and generally there is room to improve fluency, but otherwise fulfills its mission.
Gfycat Loops: GIF Cam + Recorder0.1.40
Version of Android: from 5.0
Developer: Gfycat, Inc.
Download it on: Google Play
Price: Free
Category: Players and video editors