Step into the captivating world of Minecraft hallway design, where creativity knows no bounds. In the ever-evolving realm of this beloved sandbox game, hallways are no longer just mundane passages; they are a canvas for innovation and aesthetic expression. As we dive into the realm of hallway design Minecraft, prepare to be intrigued, inspired, and amazed by the endless possibilities that await.
This year promises a resurgence of fresh ideas and ingenious layouts that will transform your in-game abode into a masterpiece. Whether you're looking to revamp your entire Minecraft world or just spice up a specific area, there's no doubt that the architectural marvels and innovative Minecraft ceiling designs coming your way will inspire you to create something truly unique. Whether you're a seasoned builder or a novice explorer, this article will ignite your desire to craft the most enchanting hallways imaginable. Join us on this journey as we explore the latest trends and offer expert insights, setting you on the path to creating stunning Minecraft hallways that will leave your fellow players in awe. It's time to turn your virtual corridors into works of art.
Rustic Cottage Hallway
Kickstarting our list is the charming Rustic Cottage Hallway. Utilize oak wood, cobblestone, and dimly lit lanterns to create a cozy and inviting atmosphere reminiscent of a countryside cottage.
Futuristic Sci-Fi Corridor
For those with a penchant for the futuristic, a Sci-Fi Corridor is the way to go. Incorporate sleek materials like polished blackstone and use redstone circuitry to give it a high-tech, space-age feel.
Medieval Castle Hallway
Transport yourself to a bygone era with a Medieval Castle Hallway. Craft towering stone walls, ornate torch sconces, and wooden beams to evoke the grandeur of medieval architecture.
Nether Themed Hallway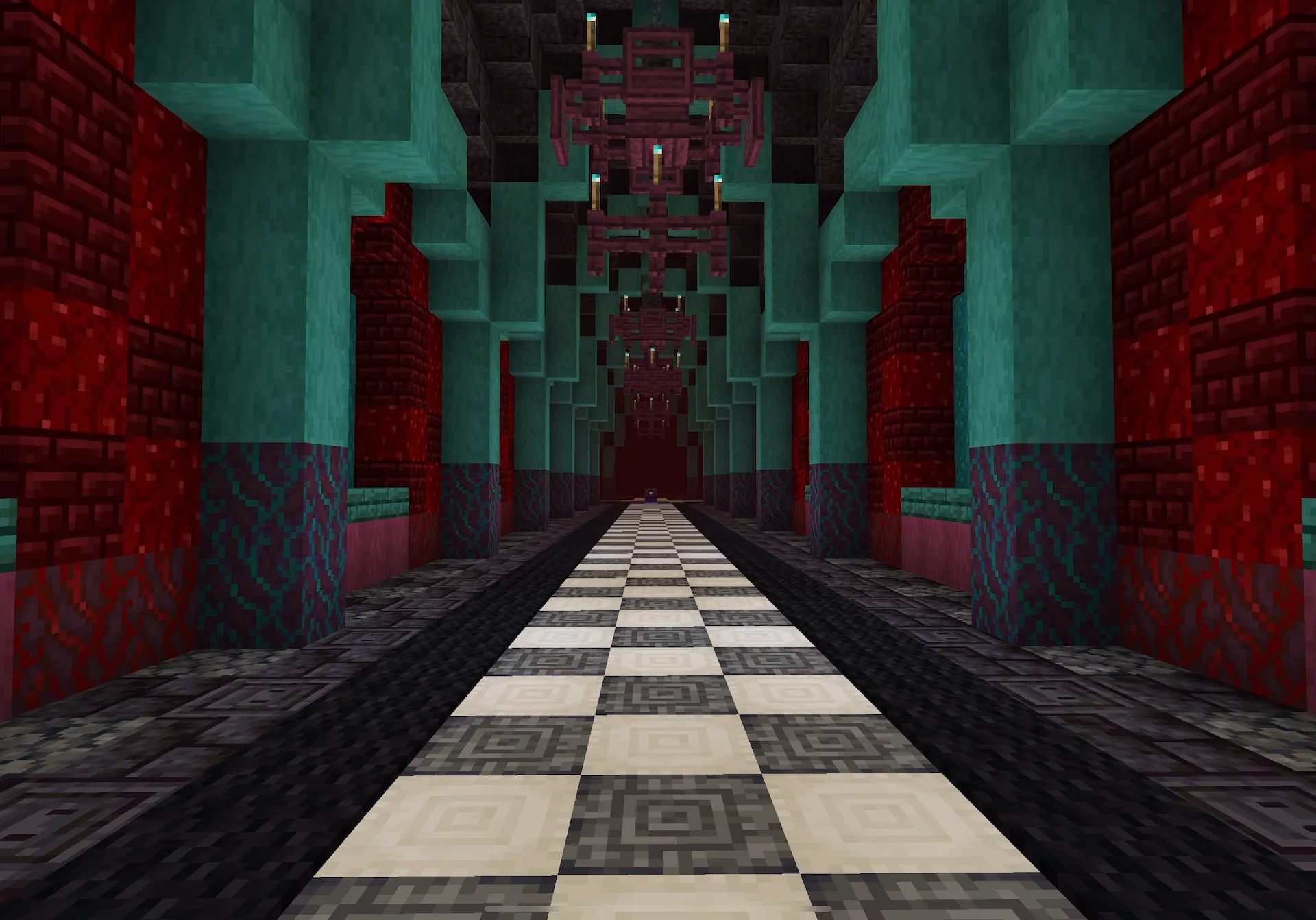 Embrace the otherworldly with a Nether Themed Hallway. Blaze rods, soul sand, and obsidian can be used to replicate the eerie ambiance of the Nether.
Ocean Themed Hallway
Dive into the depths of creativity with an Ocean Themed Hallway. Employ blue stained glass, prismarine blocks, and aquatic-themed decor to create an underwater marvel.
Jungle Themed Hallway
Venture into the heart of the jungle with a Jungle Themed Hallway. Utilize jungle wood, lush greenery, and hidden traps to capture the essence of an adventurous expedition.
Desert Themed Hallway
Amidst the dunes, a Desert Themed Hallway can thrive. Incorporate sandstone, cacti, and hidden treasures to craft an oasis of charm.
Snowy Themed Hallway
Let it snow in your Minecraft world with a Snowy Themed Hallway. Make use of packed ice, snow blocks, and icicle-like decor for a winter wonderland vibe.
End Themed Hallway
Embrace the enigmatic allure of the End with an End Themed Hallway. Purple blocks, ender pearls, and mysterious portals will transport you to another dimension.
Redstone Themed Hallway
For the redstone wizards out there, a Redstone Themed Hallway is a must-try. Incorporate contraptions, switches, and hidden doors powered by redstone to create a dynamic and interactive corridor.
Library Hallway
Knowledge is power, and a Library Hallway exudes wisdom and sophistication. Arrange bookshelves, enchanting tables, and quills to create a scholarly ambiance.
Museum Hallway
Turn your Minecraft creation into a work of art with a Museum Hallway. Display your most prized possessions, artifacts, and exhibits in a tastefully designed corridor.
Laboratory Hallway
Science and experimentation await in a Laboratory Hallway. Utilize glass panes, beakers, and brewing stands to craft a space for discovery.
Haunted Mansion Hallway
For those who seek thrills and chills, a Haunted Mansion Hallway is perfect. Incorporate cobwebs, eerie lighting, and ghostly apparitions for a spine-tingling experience.
Steampunk Hallway
Enter the realm of gears and cogs with a Steampunk Hallway. Employ brass blocks, cogwheels, and industrial accents for a Victorian-era, steam-powered aesthetic.
Modern Hallway
Sleek and minimalistic, a Modern Hallway is all about clean lines and simplicity. Use quartz blocks, iron accents, and a monochromatic color scheme for a contemporary feel.
Japanese Themed Hallway
Capture the essence of Japanese culture with a Japanese Themed Hallway. Employ bamboo, paper lanterns, and sliding doors for an authentic touch.
Egyptian Themed Hallway
Embark on a journey to ancient Egypt with an Egyptian Themed Hallway. Decorate with sandstone, hieroglyphics, and sphinx statues to evoke the mystique of the Pharaohs.
Greek Themed Hallway
Channel the spirit of Greece with a Greek Themed Hallway. Utilize marble columns, olive trees, and Greek architecture for a Mediterranean charm.
Roman Themed Hallway
Take a step back in time to the Roman Empire with a Roman Themed Hallway. Incorporate grand arches, mosaics, and statues for a taste of ancient Rome.
Chinese Themed Hallway
Celebrate the beauty of Chinese culture with a Chinese Themed Hallway. Employ red lanterns, cherry blossom trees, and pagodas to create a serene atmosphere.
Indian Themed Hallway
Immerse yourself in the vibrancy of India with an Indian Themed Hallway. Use vibrant colors, intricate patterns, and ornate decorations for an exotic feel.
Nordic Themed Hallway
Embrace the rugged beauty of the Nordic lands with a Nordic Themed Hallway. Craft wooden beams, fur rugs, and Viking-inspired decor for a cozy retreat.
Pirate Themed Hallway
Set sail on the high seas with a Pirate Themed Hallway. Incorporate barrels, treasure chests, and pirate flags to evoke the swashbuckling spirit.
Space Themed Hallway
Explore the cosmos with a Space Themed Hallway. Use black concrete, glowstone stars, and rocket ship decor to create a futuristic corridor.
Fantasy Themed Hallway
Let your imagination run wild with a Fantasy Themed Hallway. Combine whimsical elements like floating islands, mythical creatures, and enchanted forests for a truly fantastical experience.
Underwater Themed Hallway
Dive into the depths of creativity with an Underwater Themed Hallway. Employ coral blocks, sea lanterns, and aquatic life to create an enchanting underwater world.
Now that you've explored these 27 captivating Minecraft hallway designs and ideas, it's time to bring your creative vision to life in the game. Whether you prefer the rustic charm of a cottage or the futuristic allure of a sci-fi corridor, there's a design to suit every builder's taste.
So, pick your favorite theme, gather your resources, and start crafting your masterpiece in the vast world of Minecraft. Your hallways will no longer be simple transitions but captivating works of art that enrich your gaming experience.
Conclusion
In the ever-evolving realm of Minecraft, the Minecraft hallway design landscape has witnessed a remarkable transformation this year. Enthusiasts and architects alike have embarked on creative journeys that transcend the ordinary, crafting awe-inspiring passages that serve as the very arteries of their virtual worlds.
From the intricate interplay of lighting techniques to the avant-garde use of materials, the hallway design Minecraft community has left no stone unturned. As we traverse the corridors of imagination, a palpable sense of anticipation hangs in the pixelated air, beckoning us to explore, to discover, and to innovate.
For those who yearn to elevate their creations to new heights, the future holds an abundance of inspiration. With each pixel and block, we have the power to shape not just hallways, but entire narratives within the Minecraft universe. So, why wait? Dive headfirst into the boundless realm of Minecraft hallway possibilities and make this year truly remarkable in your virtual architectural endeavors. Unleash your creativity, and let your hallways become the canvas for your unique Minecraft masterpiece.
FAQs
Can I combine multiple themes in one hallway design?
Yes, you can mix and match themes to create a unique and eclectic hallway design that reflects your personal style.
What materials are best for a well-lit hallway?
Materials like glowstone, sea lanterns, and redstone lamps are excellent choices for illuminating your hallway.
Are there any texture packs that enhance hallway designs?
Yes, there are texture packs available that can enhance the visual appeal of your hallway designs, adding more depth and detail.
How can I make my hallway designs more interactive?
Incorporate redstone contraptions, hidden doors, and pressure plates to create interactive elements in your hallways.
Can I find pre-built hallway designs online for inspiration? Absolutely! Many Minecraft communities share their hallway designs and blueprints online, making it easy to find inspiration for your projects.
Remember, the key to a fantastic Minecraft hallway is to infuse it with your unique style and imagination. Happy crafting!