After months of rumors and beta versions that seemed to never end, video calls are finally coming to WhatsApp to all users. With this feature the most used communication app worldwide expands its functions beyond messaging, also betting on a more visual aspect as they did some of its competitors for some time.
Meanwhile, Google bet on the opposite strategy and not mix the features in one app, but it offers them in separate services with Allo for messaging and Duo for video calls. Now that the video calling option is now available in WhatsApp, the face with Google Duo.
Google Duo, simplicity at its best
The Google video calling app was announced in May during the conference I / O, but it was not until last August when finally landed on Google Play. Since then he has accumulated more than ten million downloads and its main advantage over other services is clear nothing open: its simplicity.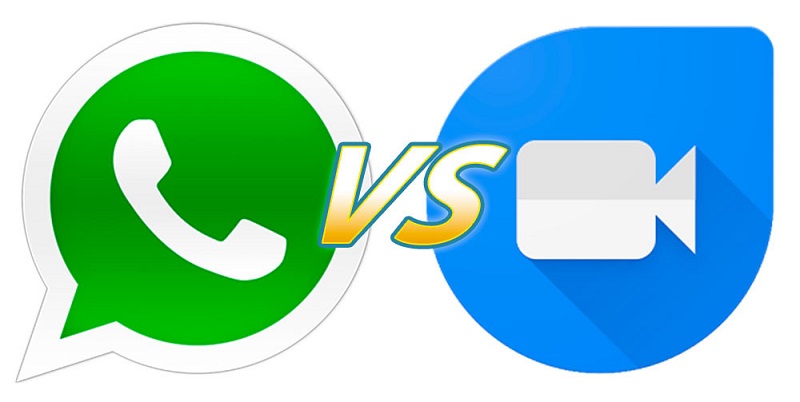 Google has wanted to make an app for video calls, nothing more, for this reason have gotten rid of any superfluous element that can distract from the task at hand, an advantage that at the same time can be a drawback for some users who prefer to have all options communication in a single app like WhatsApp proposes instead of having several apps for each option.
But let's what matters, which is the operation of Google Duo. Like WhatsApp, the application is associated with our number of phone and allows us to call those contacts on our list that also have it installed, another drawback, probably the most serious because it is not as popular app for a service user communication needs work.
Once you have selected the call and eye contact is initiated because here we find a characteristic of Duo: Toc Toc. Unlike many other apps for video calls where you do not see our interlocutor until you accept the call, with Duo we will see before answering , but we cannot see the person we call until the call begins.
Simplicity is maintained when we took down. The interface consists of the image of the person you have called full screen and a small circle in the lower left corner where our camera view window appears.
Clicking on any part of the screen the available tools, consisting of the shown switch hook, mute microphone and switch to the rear camera.
The first capture above shows us how the Toc Toc function from the other side, that is, when we who received the call. This simple tool is very useful for us to know who is calling before answering, so we can choose whether we want to answer or prefer to ignore.
Regarding the call quality varies greatly depending on the connection. According to the tests we have done the quality is acceptable but has moments when flojea and staccato voices are heard. When this happens, you can put the video Duo paused automatically so that the connection is not interrupted.
Speaking of connection, consumption is another point to consider video calling applications because they can give a nasty surprise on your monthly bill. The results obtained in previous tests point to a fairly optimized consumer about 6.38 MB per minute, but always bearing in mind that the figures may vary considerably from one call to another.
You may also like to read another article on FreshLookApp: 11 new features of Android Google Allo 2.0
WhatsApp, the messaging app is becoming more versatile
WhatsApp is the queen of mobile messaging with more than 1,000 million monthly active users, it said soon. Although the app became famous for the ability to send free messages, in recent times we have seen how it would expand its possibilities with new features.
This is the case of the newly added support for GIF images or voice calls, a function that takes time available although the figures indicate that only 10% of users has used ever, making clear that messages remain the center of the WhatsApp experience. Will they manage video calls us to use the app for more than just to send messages? We must wait to know, but for now let's see what we offer the new video calling.
As we knew from previous beta versions, WhatsApp video calls are integrated into the same tab as voice calls. To make a video call simply choose the contact and click on the camera icon, but yes, you can only make the call when the other person has also updated the app to the latest version, if you have not done a message it appears error.
The interface during a call on WhatsApp is also very simple and shows only the caller full screen with us in a box at the bottom right. Like Duo, if you click on any area of the screen available tools, which again include the option to mute the microphone or switch to the rear camera appear.
In this case, WhatsApp adds a third option that appears in the center and displays the message icon. If you click on this button will lead to text chat with the person with whom we are talking, very handy if for example we want to send a link. In addition it is possible to open other chats during a video call, just press to return in the top band in green.
In the case of WhatsApp, when we receive a video call we will not see the caller if not the front camera will automatically and we see ourselves.
On the call quality is somewhat erratic especially in the first few seconds after the connection. The image is often seen quite pixelated and often freezes, but mostly we had problems with the sound. When hanging, WhatsApp allows us to assess the quality of the call and to specify the reasons.
But what needs improvement WhatsApp with their video calls is consumption. According to previous tests, WhatsApp can consume up to five times more than Duo per minute of connection, with a total of 33 MB per minute.
Advantages and disadvantages
We said that Google prefers to separate their communication services in different apps, while focusing on WhatsApp is add them all at your service. However, as we have seen the operation of video calling apps is quite similar.
With over 1,000 million users, WhatsApp has everything going for it to take on the market for video calls, but still needs to improve consumption to become a competitive option, a point that has worked itself Duo. To close we include a table with some of the strengths and weaknesses of each proposal. And you, Which do you stay?