Hey there, Facebook aficionado! Have you ever wondered how to unpublish a Facebook page? Maybe you're contemplating whether it's the right move for you or your business. Well, you're in the right place! In this informal, friendly guide, we'll explore the ins and outs of unpublishing a Facebook page, step by step. We'll also dive into the reasons why you might want to take this action and discuss some valuable insights along the way. So, grab your virtual seat, and let's embark on this Facebook adventure together!
Unpublishing Your Facebook Page
Before we delve into the "why," let's start with the "how." Unpublishing a Facebook page is a relatively straightforward process. Follow these steps:
Log into Your Account: First things first, log into your Facebook account that has admin access to the page you want to unpublish. You need to be an admin to make this change.

Navigate to Your Page: Once logged in, click on the small arrow in the upper right corner of the Facebook homepage. A drop-down menu will appear, and you should see your pages listed there. Click on the page you want to unpublish.

Access Page Settings: Once you're on your page, click on "Settings" located in the left-hand column.

General Settings: Under the "General" tab, you'll find an option labeled "Country Restrictions." Click on "Edit" next to this option.

Unpublish Page: Now, you'll see a checkbox that says "Page published." Simply uncheck this box.

Confirm Unpublishing: A pop-up window will appear, asking you to confirm that you want to unpublish your page. Read the information carefully and click "Unpublish" if you're sure about your decision.

Finalize: You've done it! Your page is now unpublished. Facebook will confirm this with a message, and your page will no longer be accessible to the public.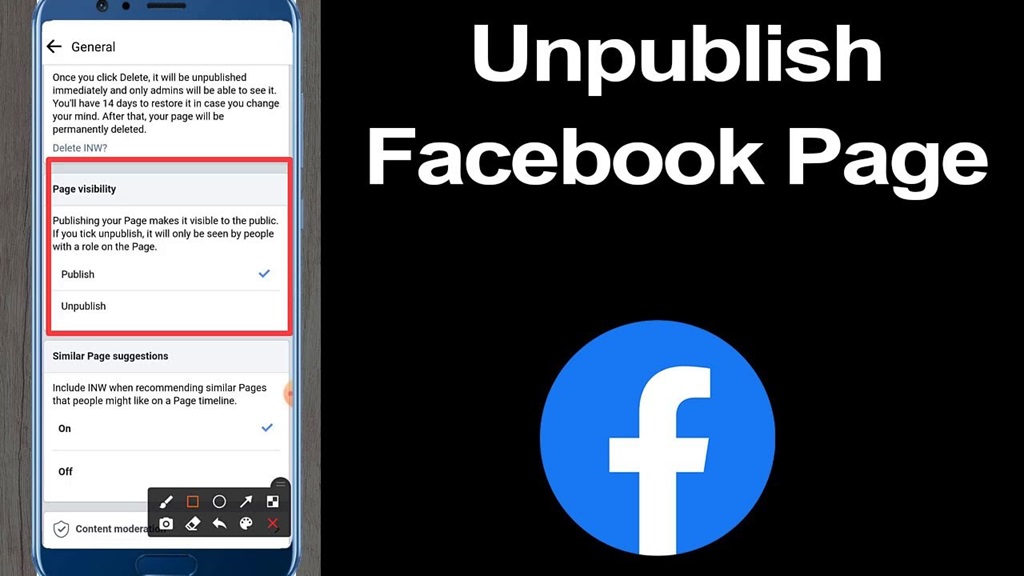 Why Unpublish Your Facebook Page?
Now that you know how to unpublish a Facebook page, let's dive into the reasons why you might want to take this step. It's essential to understand the "why" before making a decision. Here are some compelling reasons:
Transitioning Out of Business: Life is full of changes, and businesses are no exception. If you're closing down your business or transitioning to a new venture, unpublishing your Facebook page can help signal this change to your followers. It's a courteous way to let them know you won't be active on this platform anymore.

Rebranding: Rebranding can be an exciting and necessary step for a business. If you're giving your business a fresh look, a new name, or a different focus, unpublishing your old page can pave the way for a clean start.

Personal Privacy: Maybe you created a personal page for a hobby or project that you no longer want to share with the world. Unpublishing the page will protect your privacy and limit access to your content.

Inactive Page: Sometimes, pages become neglected and fall into disuse. An inactive page can harm your online reputation more than it helps. Unpublishing it is a sensible choice if you're no longer willing or able to maintain it.

Avoid Unwanted Messages: If you've experienced an influx of spam or unwanted messages on your page, unpublishing it can be a quick solution to escape the digital noise. You can always return when you're ready.

Temporary Pause: Perhaps you're taking a break from social media but don't want to lose all your hard-earned followers. Unpublishing your page temporarily can be a strategic move to maintain your audience for when you're ready to come back.

Compliance with Policies: Facebook has its policies and guidelines, and if your page violates any of them, you might receive warnings or penalties. Unpublishing can be a way to avoid these issues while you review and adjust your content.
The Art of Communication
Unpublishing your Facebook page is a significant step, but it doesn't have to be abrupt or impersonal. Communication is key, especially when you have an engaged audience. Here are some tips on how to communicate your decision effectively:
Post an Announcement: Before you unpublish your page, make a heartfelt post explaining your decision. Express gratitude to your followers for their support and loyalty. Let them know if you plan to return or if there are alternative ways to stay connected.

Provide Contact Information: If you're closing a business page, consider providing contact information or redirecting your customers to a new point of contact, such as a website or another social media platform.

Respond to Messages: If you receive messages or comments expressing surprise or concern about your decision, take the time to respond personally. It shows that you value your followers and their feedback.

Set Expectations: If you're taking a temporary break, inform your audience about your expected return date. Transparency goes a long way in maintaining trust.

Be Polite and Gracious: Remember, social media is a reflection of your brand's personality. Be polite, gracious, and professional in your communication, even when closing a chapter.
Alternatives to Unpublishing
Unpublishing isn't the only option if you want to step away from your Facebook page. Here are some alternatives to consider:
Schedule Posts: If you're taking a break but plan to return, you can schedule posts in advance to keep your page active. This way, your audience won't feel abandoned, and you can maintain engagement.

Hand Over Admin Rights: If you're transitioning or rebranding, consider transferring admin rights to someone you trust. They can take over the page and continue to manage it in your absence.

Archive Content: Facebook allows you to archive your page instead of unpublishing it. Archiving preserves your page's content while making it inaccessible to the public. You can always return and restore the page later.

Use a Cover Photo or Pin a Post: You can utilize the cover photo or pin a post to inform your audience about changes, new directions, or your temporary absence. It's a visible way to communicate without unpublishing.

Post-Unpublishing Reflection
After unpublishing your Facebook page, it's a good idea to reflect on the decision and its impact. Here are a few questions to ponder:
Was it the Right Choice? Take some time to assess whether unpublishing your page was the right decision for your circumstances. Did it achieve the desired outcome?

What Have You Learned? Reflect on what you've learned from the experience. Has it changed your perspective on social media, business, or personal branding?

Are You Ready to Return? If you unpublish your page temporarily, consider when you'll be ready to return. Have you set realistic expectations for your comeback?

What's Next? Think about your next steps. Are there new opportunities or platforms you want to explore? How will your online presence evolve from here?

Maintaining Online Presence: If you've closed a business page, think about how you'll maintain your online presence without Facebook. Do you have a website or other social media platforms to rely on?
FAQs
Q1: Can I unpublish my Facebook page and then republish it later?
Yes, you can. Facebook allows you to unpublish your page temporarily, and you can always republish it when you're ready to return. However, if you choose to delete your page instead of unpublishing it, you won't be able to recover it.
Q2: What happens to my content when I unpublish my Facebook page?
When you unpublish your Facebook page, the content remains intact, but it becomes inaccessible to the public. You can republish the page later to make the content visible again.
Q3: Can I still manage my Facebook page after unpublishing it?
Yes, you can still manage your Facebook page and make changes to it even after unpublishing it. Only the public won't be able to see the content until you republish it.
Q4: How can I archive my Facebook page?
To archive your Facebook page, follow the same steps as unpublishing, but instead of unchecking the "Page published" box, you can select the option to archive the page. Archiving preserves your content while making it inaccessible to the public.
Q5: Will my followers be notified when I unpublish my Facebook page?
No, Facebook does not notify your followers when you unpublish your page. It's essential to communicate your decision to them through a post or other means to keep them informed.
Conclusion
Unpublishing a Facebook page is a decision that should be made thoughtfully and strategically. Whether you're closing a chapter, rebranding, or taking a break, understanding how to do it and why it's necessary is crucial.
Remember, communication is key throughout this process. Keep your audience informed, and if you decide to return, you'll find a welcoming community awaiting your comeback. Unpublishing can be a fresh start, a moment of reflection, or a tactical move – it's all about what suits your unique situation.